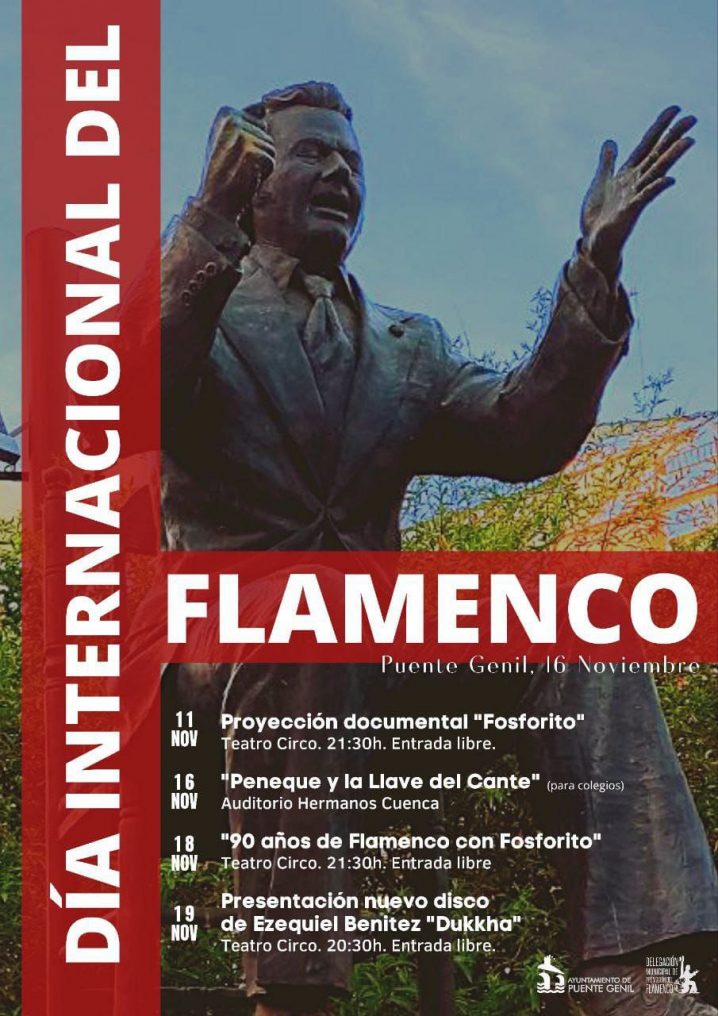 📅 Friday, November 11th, ⏰ 9:30 p.m. – 📍Circo Theatre
Screening of the documentary "Fosforito, a history of flamenco", directed by Alejandro Fernández, son of the "Maestro" where he shows why Fosforito is one of the benchmarks of flamenco art, awarded in 2005 with the Fifth Golden Key of Cante and, since then , "has been a fundamental axis in the world of flamenco"
📅Wednesday, November 16th,⏰ 11:00 a.m. –📍 Cuenca Brothers Auditorium
"The heart that moves flamenco" with Peneque and La Llave del Cante, an activity aimed at boys and girls. This activity is organized by the Puente Genil City Council and is co-financed by the Junta de Andalucía with the "Flamenco Comes from the South" program.
📅Friday November 18th, ⏰9:30 p.m. –📍 Circo Theatre
"Mastery with Fosforito. 90 years of flamenco with Fosforito". It is a conference given by Fosforito who "will share with all of us all his experiences throughout his life and all his flamenco wisdom" being accompanied by Julián Estrada and Juan Ortega. This activity is sponsored by the Córdoba Provincial Council through the Córdoba 15 Plan.
📅Saturday, November 19th, ⏰ 8:30 p.m. – 📍 Circo Theatre
Jerez-born singer Ezequiel Benítez will present the album "Dukkha" "dedicated, in large part, to his father Alfredo Benítez", an event also co-sponsored by the Andalusian Government with the program "Flamenco Comes from the South."
All activities will be with free admission until full capacity.
Organizer: Delegation for the Promotion of Flamenco of the Puente Genil City Council