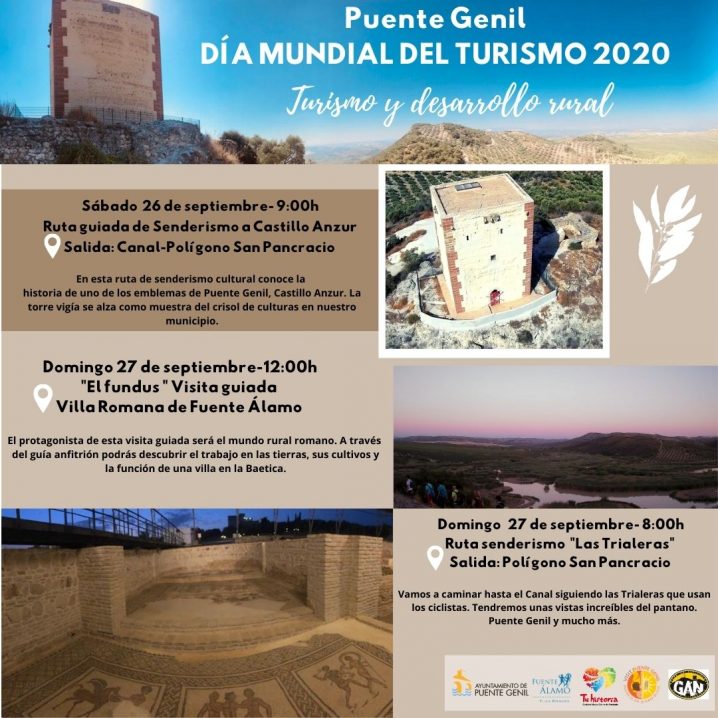 Celebrate with us the International Tourism Day 2020, are you coming?
To celebrate International Tourism Day next weekend we have prepared some activities for you. Do you want to know which ones?
To whet your appetite on Saturday 26th we are going to visit one of the emblems of #PuenteGenil shield: Anzur Castle. We will leave at 09:00 from the crossing of the Polígono San Pancracio with the Canal. Bring comfortable clothes and shoes, a snack and water. And above all we hope you want to know more about our historical and natural heritage.
On Sunday, the Group of Activities in Nature will show us another perspective of the Canal and the Cordobilla Reservoir. This route will be a little longer and so we will leave a little earlier, at 8:00 a.m. also from the crossing of the Polígono San Pancracio with the Canal. Don't forget water and snacks and comfortable shoes and clothes. The desire to walk is already up to you … 😉
Also on Sunday at the Roman Villa of Fuente Álamo you can get to know a little more about the rural world in ancient Rome. Our host will guide you to discover how the lands were worked, the types of cultivation and the function that the villages played in the Baetica.
Places are limited (30 on the routes and 20 on the visit with host.)
You can sign up at the Tourist Office, via email or by phone by calling 957 600 853.
All activities are free.